Features:
Daily capacity reaches 5000 square meters.
The max. width is 2.2 m
It can work in max.270℃ Working conditions
Standard weight: 750gs m, 800gs m
Finish treatment: Singeing, Calendaring, Heat setting
About Blending PTFE Needle Felt: we can lower the cost by 10% – 30%.Our sales manager will advice you to choose the most suitable fabrics after we have a clear understanding of your plant. Consider of cost, the blending PTFE Needle Felts are more economical. After our calculation we can lower the cost by 10%-30%. PTFE(Teflon) Needle Felt is one of the most excellent chemical fiber fabric. This material has acid-alkali resistance of various characteristics of organic solvents, almost insoluble in all solvents. At the same time, PTFE fabric has great heat-resistance and it's coefficient of friction is low, so we can easy to clean this fabric.
Physical and Chemical properties:
Weight(gsm)
650
Thickness(mm)
1.5
Width(mm)
≤2.2 m
Finish treatment
Singeing, Calendaring, Heat setting
Air permeability(L/m2.s)
60
Tensile strength(N/5cm)
warp
≥700
weft
≥600
Tensile  elongation(%)
warp
≤20
weft
≤30
Heat shrinkage(%)
warp
≤1.5
weft
≤1.0
Temperature(°C/°F)
Continue
240
Instant
260
Anti-acid
Good
Anti-alkali
Good
Anti-abrasion
Excellent
hydrolysis stability
Middle
Notice: People call the PTFE as Teflon. In fact the "Teflon ®" is a registered trademark belongs to DuPont ®.
Pictures
1. PTFE Needle Felt Production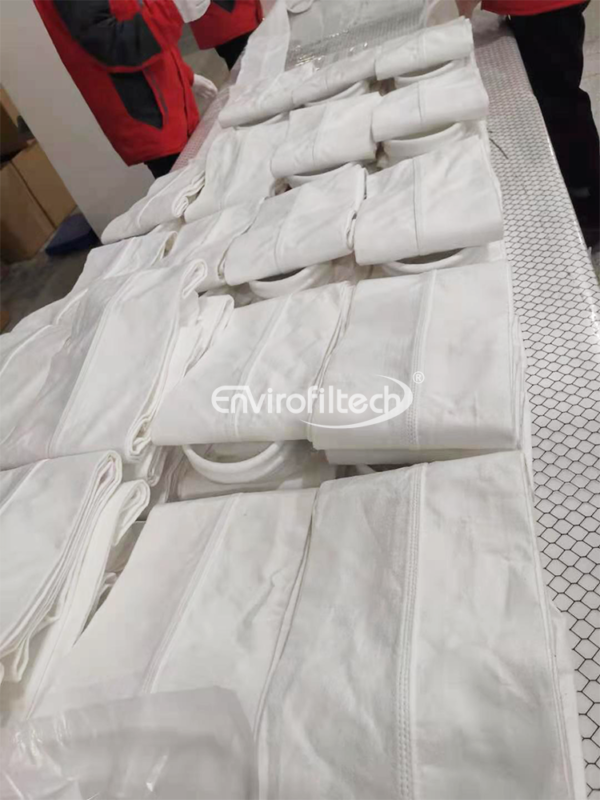 2. Finished PTFE Filter Bags